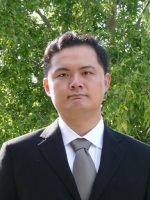 薛绍杰
助理教授
德州农工大学经济学博士
电话:
电子邮件:schsuechieh@msn.com
办公室:经济楼B211
Office Hours:Tuesday 10:00 - 12:00
工作经历
January 2015 - present, Assistant Professor, School of Economics & Wang Yanan Institute for Studies in Economics (WISE), Xiamen Unviersity
September 2011 - January 2015, Associate Professor, School of Economics, Southwestern University of Finance and Economics

教育背景
Ph.D. Economics, Texas A&M University, 2006-2011
B.S. Economics, National Taipei University, 1997-2001

研究领域
Major Field: Microeconomic Theory, Mechanism Design, Auction Theory,
Minor Field: Public Economics, Industrial Organization.


第六批厦门市台湾特聘专才
Research Papers:
1. Protective equipment and health education program could benefit students from dust pollution,with Yi-Chen Chiang, Xian Li, Chun-Yang Lee, Jia Rui, Chiung-Wen Hu, Hao-Jan Yang, Szu-Chieh Chen, Tianmu Chen, Yanhua Su, and Chung-Yih Kuo, Air Quality, Atmosphere & Health,forthcoming, DOI:10.1007/s11869-020-00942-3
2. Does Formal Financial Development Crowd in Informal Financing? Evidence from Chinese Private Enterprises with Liming Hou and Shuoxun Zhang, Economic modelling, forthcoming, https://doi.org/10.1016/j.econmod.2020.05.015.
3. On Stability of Efficient Cartel Mechanisms in First-Price Auctions with Uninformed Bidders with Xiaoyong Cao and Wei Wang, Economic Letters, forthcoming, DOI:10.1016/j.econlet.2019.108918.
4. On the Ratifiability of Efficient Cartel Mechanisms in First-Price Auctions with Participation Costs and Information Leakage with Xiaoyong Cao and Guoqiang Tian, Oxford Economic Papers, forthcoming, DOI:10.1093/oep/gpz070.
5. Happiness or hopelessness in late life: A double-blinded cluster RCT of the 3L-Mind-Training programme among the institutionalized older people,with Yi-Chen Chiang and Chun-Yang Lee, Journal of Advanced Nursing (JCR Q1), 76, pp. 312-323, 2020. DOI:10.1111/jan.14104.
6. The Qualitative Properties of Symmetric Open-loop Nash Equilibria in the State-Control Dynamic System in Differential Games, with Chen Ling, Asian Journal of Control, Vol. 20, No. 5, pp. 1769-1781, September 2018. DOI: 10.1002/asjc.1700.
Working Papers:
1. On Ratifiability of Efficient Cartel Mechanisms with Active Seller with Xiaoyong Cao and Chen Ling
2. Auctions with Private Values and Private Participation Costs with Xiaoyong Cao
3. Does TARP Help Lending? Evidence from Panel Data with Shuoxun Zhang, and Li Gan
4. Foreign Direct Investment in Taiwan: Direct and Spillover Effects on Labor Productivity with Yi-Chia Wang
5. Wealth Management Product and Bank Performance in China with Shuoxun Zhang
1. 国家自然科学基金, 71871195, 参与人, 条件协偏(峰)度、人民币与国际避险货币:基于区制转换模型的研究.
2. 教育部人文社科基金, 16YJC790116, 计划主持人, 竞标者合谋与卖方防范机制研究.
3. 国家自然科学基金, 71403223, 主要参与人, 银行金融产品、货币需求与信贷供给研究.